Artificial Intelligence (AI) has made its mark across various industries, but one area where its impact has been uniquely significant is digital marketing. AI is transforming the way businesses interact with their audience, allowing for more personalized and engaging experiences.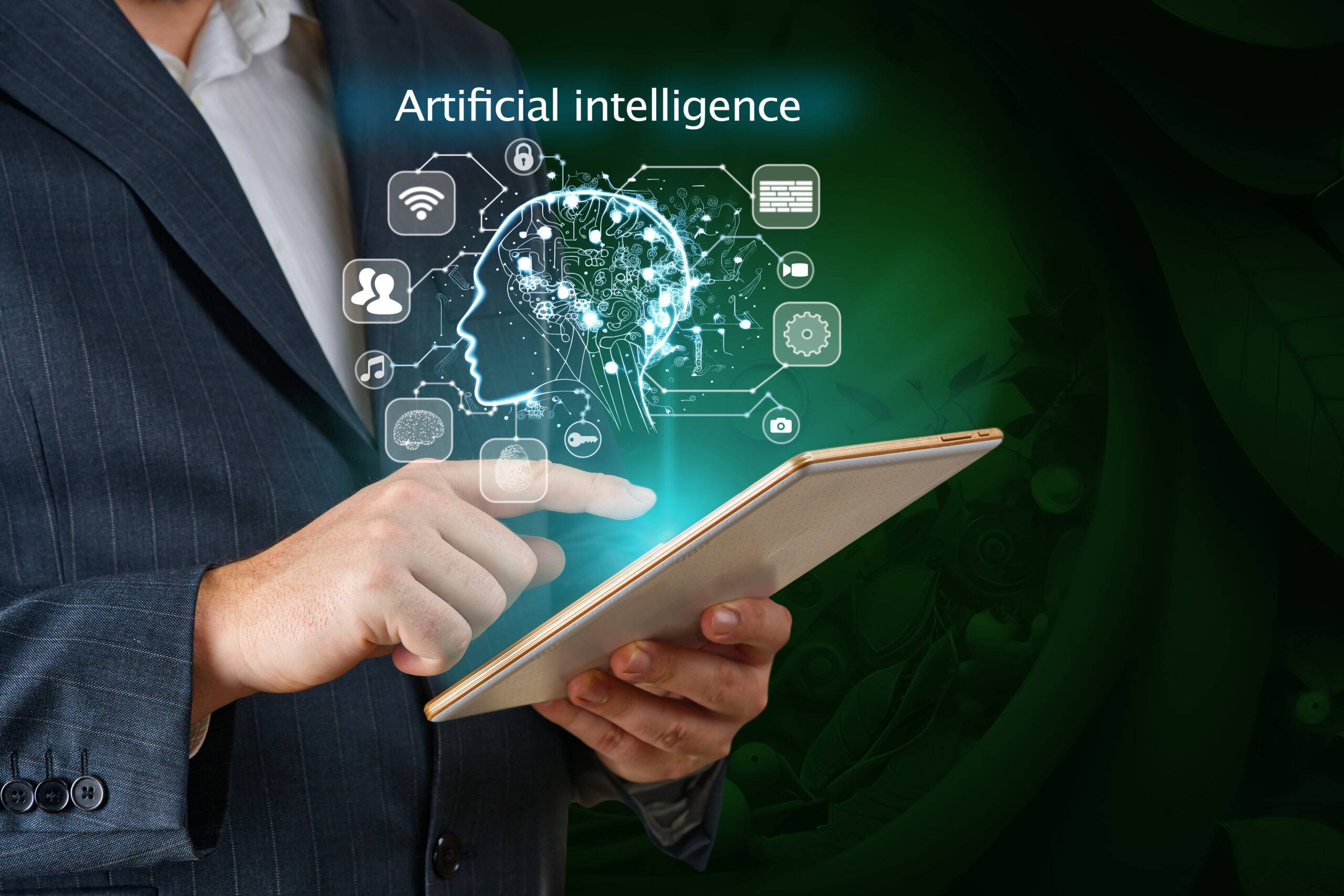 At the heart of this transformation is Intellimark, your AI CMO, a creation of Steele Solutions. This blog post will explore the game-changing power of AI in digital marketing and how your business can leverage Intellimark to boost your bottom line.
Table of Contents
The AI Revolution in Digital Marketing
Revolutionizing Your Business with Intellimark
Performance Monitoring and Optimization:
Steele Solutions and Intellimark: A Partnership for Success
Turning Potential Into Performance
The AI Revolution in Digital Marketing
Digital marketing was once a straightforward process, revolving primarily around content creation, SEO, and social media engagement. However, as the digital landscape evolved, so did the complexity and scope of marketing. Today, effective digital marketing involves not just understanding your audience, but predicting their behavior, tailoring personalized experiences, and making data-driven decisions at every step of the customer journey.
AI is a potent tool in this new era of marketing, providing capabilities beyond what was previously thought possible. From chatbots for customer service to predictive analytics for forecasting trends, AI is helping businesses stay ahead of the curve.
The Intellimark Difference
Intellimark, the AI-powered CMO, takes this revolution a step further. It is an advanced AI platform designed to offer strategic marketing advice, analyze data, and execute tasks typically performed by a human marketing executive, only faster and more accurately.
Data-Driven Decision Making:
Intellimark can sift through and analyze massive amounts of data in real-time. This capability provides actionable insights that can be leveraged to devise more effective marketing strategies.
Predictive Analysis:
The power of AI allows Intellimark to predict future trends and consumer behavior accurately. This foresight can be used to align marketing strategies with anticipated market trends, giving your business a competitive edge.
Cost Efficiency:
Intellimark's AI-powered efficiency translates into reduced operational costs. It can perform tasks quickly and accurately, increasing productivity while saving time and resources.
24/7 Availability:
Intellimark is operational around the clock, ensuring seamless execution and monitoring of your marketing campaigns at all times.
Personalization:
Understanding and addressing individual customer needs is crucial in modern marketing. Intellimark uses AI to understand your customers' preferences, offering them personalized experiences that foster loyalty and satisfaction.
Steele Solutions' Approach
At Steele Solutions, we believe in the transformative power of AI in digital marketing. With Intellimark, we aim to help businesses harness this power to revolutionize their marketing strategies. We understand that each business has unique needs, and we strive to provide customized solutions that align with your business goals.
Revolutionizing Your Business with Intellimark
With Steele Solutions' AI-powered CMO, Intellimark, businesses can navigate the complexities of the digital marketing world more efficiently. Here's how Intellimark can revolutionize your marketing efforts:
Audience Segmentation:
Intellimark can analyze your customer data to identify distinct groups or segments within your target audience. This segmentation can be based on various factors like customer behavior, preferences, or demographic information. By identifying these segments, your business can create personalized marketing strategies that cater to the specific needs and interests of each group, leading to more effective and efficient campaigns.
Improved Customer Experience:
Through AI-driven predictive analytics and personalization, Intellimark can help improve the overall customer experience. By anticipating customer needs and preferences, it can ensure that your marketing messages resonate with your audience and build stronger customer relationships.
Performance Monitoring and Optimization:
Intellimark doesn't just help create and execute marketing strategies—it also monitors their performance in real-time. It can identify successful campaigns and those that may need adjustments, providing insights for ongoing optimization.
Strategic Decision-Making:
Leveraging its data analysis capabilities, Intellimark can provide valuable insights to inform your strategic decisions. Whether it's identifying emerging trends or understanding the effectiveness of different marketing channels, these insights can help you make more informed decisions that contribute to your business's growth.
In addition to the aforementioned advantages, Intellimark goes a step further, offering advanced capabilities designed to streamline your digital marketing operations and deliver measurable results. Here are some additional ways Intellimark is changing the game:
1. Content Generation and Optimization
Artificial Intelligence has made significant strides in the field of Natural Language Processing (NLP). Intellimark leverages this technology to generate and optimize content. It can produce high-quality blog posts, social media content, and more, based on the inputs and guidelines you provide. Furthermore, it can review and optimize your existing content, ensuring it aligns with SEO best practices and appeals to your target audience.
2. Predictive Analytics
Intellimark's AI algorithms can analyze historical data and identify patterns that humans might miss. These insights can help predict future trends or outcomes, allowing you to anticipate market changes and adjust your strategy proactively. Whether it's forecasting future sales or identifying potential growth opportunities, predictive analytics can give your business a significant competitive advantage.
3. Omnichannel Marketing Management
In today's digital landscape, consumers interact with brands across multiple channels, from social media to email to your company website. Managing these different platforms can be challenging, but Intellimark can help. It allows you to manage and coordinate your marketing efforts across all channels from a single platform, ensuring a seamless and consistent brand experience for your customers.
4. Campaign Automation
With Intellimark, you can automate your marketing campaigns, freeing up valuable time and resources. It can schedule and post social media content, send out personalized emails, and more, all based on the parameters you set. Plus, it can monitor your campaigns in real-time, making adjustments as needed to maximize performance.
5. Real-time Reporting
Intellimark provides real-time reporting capabilities, allowing you to track the performance of your marketing efforts instantaneously. It offers comprehensive analytics and easy-to-understand dashboards, giving you a clear picture of how your campaigns are performing and where there's room for improvement.
Steele Solutions and Intellimark: A Partnership for Success
At Steele Solutions, we're not just providing you with an AI tool—we're offering a partnership. With Intellimark, our goal is to help your business thrive in the digital age. We're committed to working with you every step of the way, from understanding your unique needs to implementing a tailored AI-driven marketing strategy that drives results.
Whether you're a small business looking to level the playing field or a larger organization seeking to streamline your marketing operations, Intellimark offers a flexible, scalable solution that can grow with your business.
The potential of AI in digital marketing is vast, but it's about more than just adopting new technology—it's about finding the right partner. At Steele Solutions, we're ready to be that partner. With our expertise and Intellimark's capabilities, we're confident we can help you unlock the full potential of your business.
Turning Potential Into Performance
Intellimark, Steele Solutions' proprietary AI tool, is designed to be more than a utility. It's meant to be a guide, a companion, and a collaborator that amplifies your team's efforts, helping you stay ahead of the competition and increase your bottom line.
1. Data-Driven Decision Making
Intellimark's robust data analytics capabilities provide an empirical basis for your marketing decisions, eliminating guesswork. Its ability to process and interpret large volumes of data in real-time means that you're always operating with the most up-to-date information. This, coupled with its predictive analytics capabilities, equips you with foresight, allowing you to make proactive strategic moves.
2. Personalized Marketing at Scale
Leveraging AI's advanced processing capabilities, Intellimark enables you to deliver personalized experiences to your customers at scale. It can segment your audience based on their behavior, preferences, and past interactions, then craft targeted messages that resonate with each segment. This level of personalization can significantly improve engagement and conversion rates.
3. Increased Efficiency and ROI
By automating repetitive tasks, streamlining marketing operations, and optimizing campaign performance, Intellimark can help your business operate more efficiently. The time and resources saved can be allocated to more strategic, high-impact tasks. Moreover, Intellimark's ability to target the right people with the right message at the right time can dramatically improve your marketing ROI.
Conclusion
In the rapidly evolving landscape of digital marketing, staying ahead of the curve requires more than just keeping up with trends—it requires anticipating them. With Intellimark, Steele Solutions is pioneering a new era of AI-driven marketing that empowers businesses to not just anticipate, but shape the future.
The potential of AI in digital marketing is vast and continually growing, but potential alone is not enough. At Steele Solutions, we're dedicated to turning this potential into performance—to not just dreaming of what's possible, but making it happen. With Intellimark as your AI CMO, we believe we can revolutionize your business and boost your bottom line.
Citations