Accessibility is more important now than ever before for your companies website- We ensure that your website is fully ADA compliant.
Having an accessibility tool on your website will help your SEO and also protect you from any potential lawsuits-Want to see how this looks? Click the little blue icon in the corner and browse our fully compliant site. This solution starts at $650 a year with monthly subscriptions available. Contact us today and we will get you set up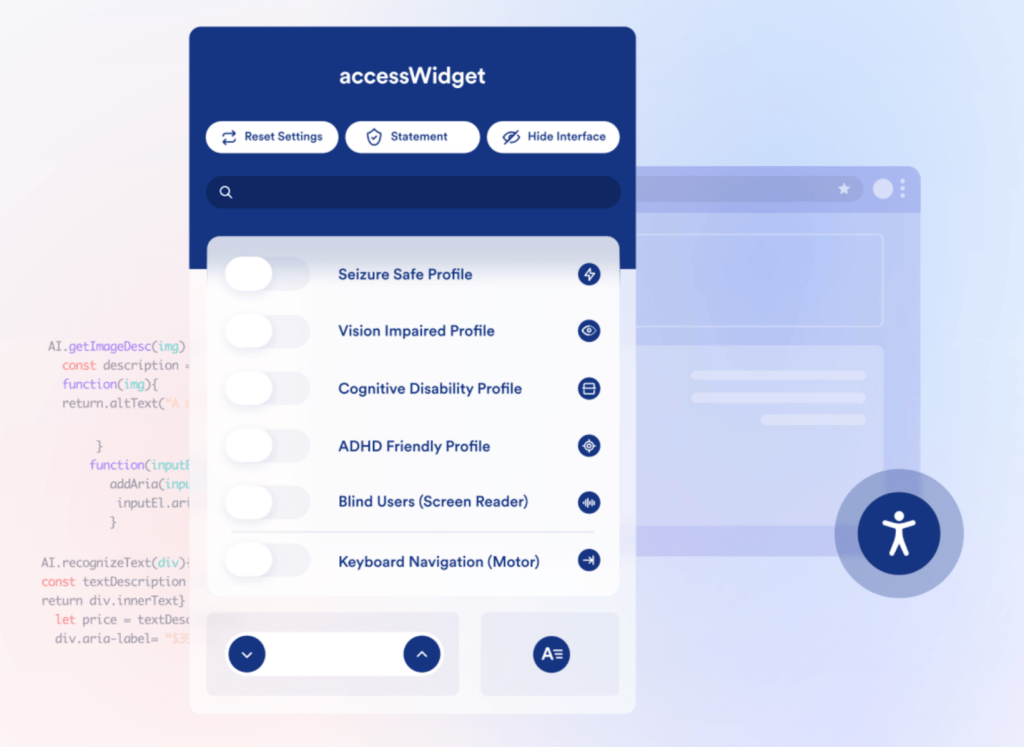 Embrace Inclusivity: Ensuring Your Website is Accessible to All with Steele Solutions
Embrace Inclusivity: Ensuring Your Website is Accessible to All with Steele Solutions
In the interconnected world of today, web accessibility is not just an ethical choice, but a business imperative. Steele Solutions is here to guide your business to embrace inclusivity with our advanced accessibility widget. It ensures that your website is welcoming and usable for everyone, regardless of any physical or cognitive disabilities they may have.
The Impact of Inclusivity
Our accessibility widget is meticulously designed with an understanding of various disabilities and the unique challenges they present in navigating digital content. It ensures that your website is easily navigable and comprehensible to individuals with visual, hearing, motor, and cognitive impairments. This empowers you to create an inclusive digital environment that respects the diversity of your audience.
Legal Considerations and ADA Compliance
Apart from the ethical implications, ensuring website accessibility carries substantial legal benefits. With our accessibility widget, your website will adhere to the standards set by the Americans with Disabilities Act (ADA). This not only safeguards you from potential lawsuits but also demonstrates your commitment to promoting an equitable digital space.
Boosting SEO
By making your website accessible, you're also enhancing your Search Engine Optimization (SEO). Search engines like Google value websites that provide a quality user experience to all users. With the implementation of our accessibility widget, your website will be better positioned to rank higher in search results, attracting more traffic and potential customers.
Expanding Your Audience Reach
Inclusivity is not just about legal compliance; it's about expanding your reach. An accessible website invites a broader audience that might have been inadvertently excluded before. This widens your potential customer base and increases opportunities for engagement and conversion.
Pricing Options
At Steele Solutions, we believe in providing value-driven services. Our accessibility widget is available at an affordable yearly rate of $650 or a convenient monthly rate of $65. This small investment can significantly enhance your website's accessibility, inclusivity, and overall performance.
The Steele Solutions Pledge
At Steele Solutions, we stand for creating powerful, impactful solutions for our clients. Our accessibility widget encapsulates this commitment. By helping your business stay on top of accessibility standards, we ensure that your website isn't just accessible, but inviting and user-friendly for all visitors.
Inclusivity is more than a legal requirement; it's a statement about your brand's values. Let Steele Solutions assist you in amplifying that statement. Together, let's create a web experience that is truly for everyone.